---
About Mistress Becky
Okay, I guess this will be a page about me. Hmmm. I'm not very good at this, so I suppose I shall say whatever comes to my mind, hoping that it's not boring.

Well, music wise, my three favorites bands, singers, whatever are Nine Inch Nails, Tori Amos, and Ani DiFranco. I also like Concrete Blonde, eels, the Cure, Jewel, Oingo Boingo, Dead Can Dance, They Might Be Giants, Heads, Siouxsie and the Banshees, Skinny Puppy, Dead or Alive, Information Society, Pet Shop Boys, New Order, Electronic, OMD, and lots of others I can't think of right now.

I live in Rialto, California (which is right next to San Bernardino if you know where that is). Oh, I'm 19 years old. I go to California State University in San Bernardino. However, during the Summer of '98, my friends (Ben and Tiffany) and I are moving to Las Vegas with my boyfriend (Perfect--I'm guessing he doesn't want me to put up his real name in case someone he knows reads this {and he calls me a freak?}) and another friend (Dan). It should be pretty cool since all five of us are pretty good friends, so there won't be any jealously or anything like that. Always a bonus. I'll try to put up pictures of all of those people, but I can't right now because I don't have enough space, but here's a picture of my boyfriend (he's informed me that he could sue me for this, but he wouldn't do that, so I'm not worried.)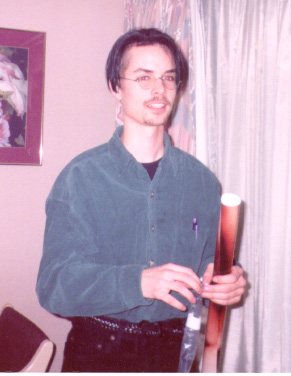 What else is there to tell about me? I like to read a lot. I am currently reading _Restauraunt at the End of the Universe_ by Douglas Adams. Yes, I do like Anne Rice. (According to Perfect's page, he doesn't. Oh well.) I LOVE music! I like to read into the lyrics a lot, that's just the way I am. I actually sat down with the lyrics to the three main NIN albums and composed a thing of my own. That's on my NIN page if you want to look at. I did another one, but it's a bit more personal, so I've only showed it to two people, my boyfriend and my friend Bill. I am curious how many of you actually understand my NIN page. If I get enough people who acutally do, I might decide to put up the other one. I'm not sure though.

Here's a picture of my friend Tiffany:
That's about all I can think of for now, because I have a million other things I need to do, so I'll be back later...
---
---
My Other Pages...
Go back to my home page.
This is a page of links to my other links pages.
Come here on a webring? Or simply want to join one? Then go here.
Read about my life in Vegas and see pictures of most of my roommates.
This is a page that has my "tribute" to Nine Inch Nails. Feel free to send comments about it to me.
Read some quotes I have put together.
This originally started out as a page stating what was on my mind, but ended up being a page of pictures.
See the old entries for "The News About the Spaz Pages."
Click here to find out.
This explains how I got the name Spaz, and why I changed it from Mistress Becky.
Want to go back to my entrance with the quote?
---

This page has been visited
times.

Sign The Spaz Guestbook View The Spaz Guestbook